Purchasing Options at TTUHSC
There are three generally approved processes for making purchases as an employee or agent of TTUHSC. Each was specifically designed for order processing efficiency, legal protection, and compliance.


In the event a PCard or Direct Pay transaction requires the execution of the contract, the TechBuy homepage contains the below tool to request signature from the Director of Purchasing. Remember individual TTUHSC employees do not hold delegated authority to execute contracts, doing so is contrary to institutional policy and may make the individual personally liable for all payments for these goods or services.
Please visit the TechBuy link to generate an automated e-mail to TTUHSC Purchasing with your contract request by clicking on the Signature Request Link icon.
Example: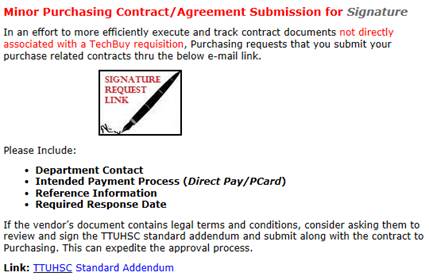 Contact
Purchasing
Address:

3601 4th Street STOP 9021 | Lubbock, Texas 79430-9021

Phone:

806.743.7841

Email:

purchasing@ttuhsc.edu